Comment démarrer des parties de Jeux de Rôles avec Rolemaster, Spacemaster, HARP ou jouer dans Shadow World ? On vous explique ici comment choisir un des systèmes de jeu ICE, trouver les ouvrages indispensables et commencer à jouer.
Rolemaster :
Quels livres pour démarrer ?
Première chose à savoir, l'anglais est quasi indispensable ! Il
existe quelques livres et suppléments traduits en Français mais la grande majorité demeure en Anglais. Si vous êtes anglophobe pas de panique, les traductions disponibles suffisent pour jouer dans un univers qui vous sera propre.
Rolemaster dispose aujourd'hui de 5 éditions, nous allons les détailler ici. Les puristes diront qu'il existe en fait 6 éditions, la troisième n'étant qu'une ré-édition avec nouvelle mise en page nous n'en parlerons pas ici.
RM1, la version originale
On la cite car c'est d'elle que tout est parti mais elle n'a aucun intérêt si ce n'est celui de la collection ! Assez difficile à trouver, collector…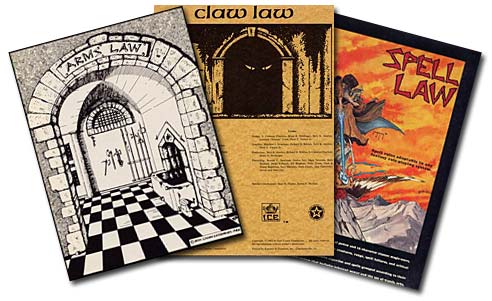 Les trois livres de règles de la première édition. Snif !
RM2, l'ancêtre ?
C'est l'édition « au kilo ». 3 livres de base, 7 companions généraux plus des companions divers… Côté règles, elle sont identiques à la RM1, seule la mise en page et quelques affinages changent. Les livres minimum à avoir sont : character law, arms law, spell law (ou en français « le manuel du personnage », « le manuel des combats » et « le manuel des sorts »). Les companions sont optionnels mais le 1 et le 2 sont parmi les plus recommandables.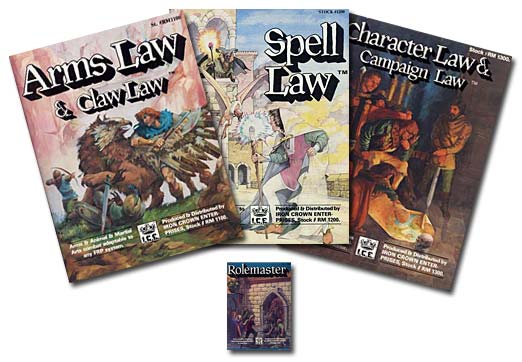 La boite et les trois livres de règles en version Anglaise RM2.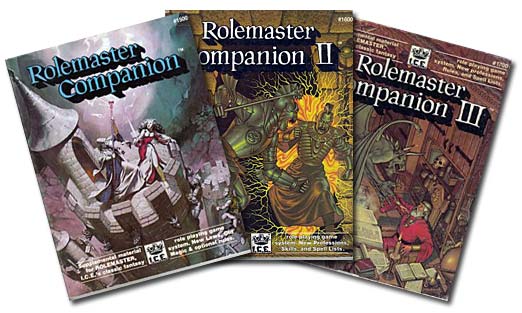 Les 3 premiers « Companions » en VO…
RMSS, le Standard System
L'édition intermédiaire, des changements dans la construction du personnage. Le reste est similaire à l'ancienne version. Des retouches sont faites ici et là. Les divers companions de l'ancienne édition ont été intégrés ou plutôt des morceaux ont été choisis pour vous. On pourrait presque comparer cette édition à une RM2 « maison » avec des morceaux de companions. Au final, les deux version restent à peu près compatibles.
Néanmoins, cette édition et la suivante ont amené ni plus ni moins qu'un schisme dans la base des fans de Rolemaster : il semblerait qu'une majorité soit restée sur RM2 et ses
Companions, et que seule une minorité d'anciens soit passée sur RMSS & RMFRP. Les nouveaux arrivants des années 1995-2005 choisissaient le plus souvent RMFRP (« la dernière édition de Rolemaster »). Ceci avant le revirement total lié à l'arrivée de RM Classic, bien sûr.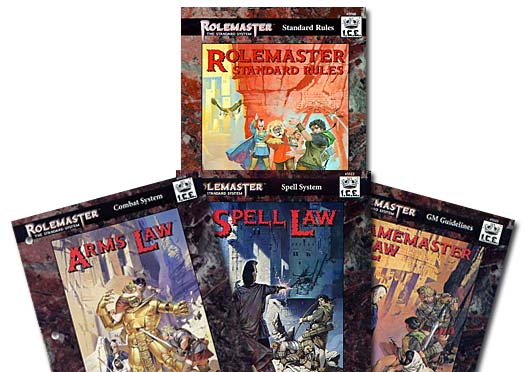 Les différents livres de base de RMSS.
RMFRP, la dernière édition ?
Techniquement, la dernière édition de Rolemaster, était jusqu'à peu l'édition la plus récente des règles de Rolemaster. Elle est à 95% identique à la RMSS. Mise à part quelques affinages et corrections vous ne trouverez guère de changements. Cette version est toujours supportée en termes « officiels ». Dans la réalité, aucun ouvrage marquant n'est sorti depuis plusieurs années.
Quant à savoir s'il s'agit vraiment de la dernière édition de Rolemaster, nous préférerions vous conseiller de jeter un oeil à la dernière trouvaille de I.C.E. : Rolemaster Classic, dont l'ensemble de la gamme est sortie en 2007-2008 et qui semble, elle, bénéficier d'un support important de la part de l'éditeur.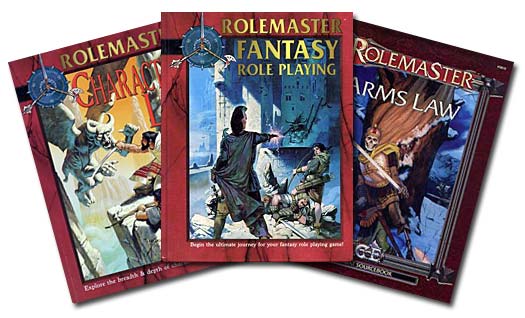 Le livre de règles RMFRP, le Character Law et le Arms Law dernière édition.
Exemples de différences entre RM2 et RMSS/FRP
RM2 RMSS/FRP Progression talent -25/5/2/1/0.5 sauf ambush Suivant type de talent, variant du simple au triple. ex : le cas général étant -15/3/2/1/0.5. Tirages carac.
aux dés 600 pts + 10d10 Pts de développement standard presque doublés Développement talents ex : 2/5 ou 5 ou
2/*, coût par talent.
nouveau : trois développements par niveau (ex : 2/3/5)
training packages (groupe de talents prémontés et moins chers), coût par groupe de talent Round standard revisité suivant le type d'action Bonus carac.
50 = 0 90 = +10 100 = +25
Utilisation talent : moyenne des bonus.
50= 0 90= +5 100= +10
Utilisation talent : bonus additionnés.
Talents primaires, secondaires et/ou companions Suivant la profession
Rolemaster Classic.
Une nouvelle édition de… Rolemaster 2 ?
Rolemaster Classic est né d'un constat : malgré la sortie de deux éditions de Rolemaster (RMSS et RMFRP), de nombreux « anciens » fans sont restés sur les règles de la seconde édition, RM2. Rolemaster 2 a toujours été considérée comme la version la plus simple et la plus standard de RM, celle sur la base de laquelle il est aisé de travailler à des compléments et des mises à jour.
I.C.E. a donc pris le
taureau par les cornes (et sans doute inspiré un grand coup, vu le risque en terme de ventes et d'image) et a travaillé pendant des mois avec une équipe de fans pour ré-écrire totalement les règles de Rolemaster 2. Ils n'ont gardé dans les ouvrages de base que les règles par défaut, toutes les options sont signalées et traitées à part. Le résultat est très réjouissant, les règles de l'ancêtre s'avèrent simples et claires, rédigées dans un style qui privilégie le sens sur le style. La sortie de RMC
permet aux fans de RM2 de se remettre à jour, de trouver les ouvrages en version imprimée, et surtout à de nouveaux adeptes de (re) découvrir Rolemaster. Nombreux sont ceux qui ont autrefois découvert le Jeu de Rôles grâce à MERP et qui semblent
aujourd'hui tomber par hasard sur ces nouveaux livres et qui en profitent pour revenir au JDR…
Plusieurs extensions de qualité sont déjà disponibles, un manuel de combat, un manuel de monstres et un « Companion » revisité est même annoncé, comme à la bonne époque…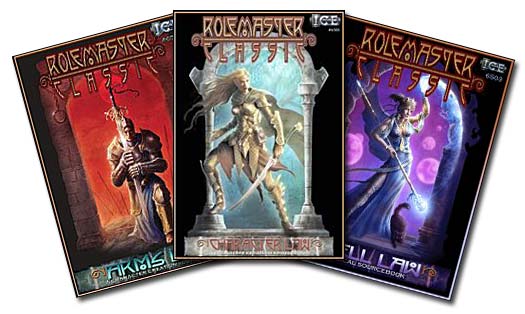 Les 3 livres de règles de Rolemaster Classic.
Quelle édition de Rolemaster pour démarrer aujourd'hui ?
Si vous désirez vous mettre à Rolemaster aujourd'hui, vous avez deux choix : Rolemaster Classic (basé sur l'ancienne édition Rolemaster 2) ou RMFRP, Rolemaster Fantasy Role Play.
RM1 est une édition pour les collectionneurs. RM2 a été mise à jour avec RM Classic, et même les Compagnons sont en cours de
ré-édition partielle. L'édition RMSS n'à guère d'intérêt, autant prendre la RMFRP. Malgré quelques différences, les deux éditions sont compatibles entre elles.
Pas mal « d'anciens » sont restés sur l'ancienne édition, la préférant à l'actuelle. L'ancienne édition n'est plus disponible et vous aurez du mal à la trouver. Vos lieux de chasse pour cette édition seront des sites de vente aux enchères tel qu'Ebay ou les magasins spécialisés proposant de l'occasion (ex : Star Player, relais Descartes…). L'ancienne édition peut se trouver en Anglais et en Français (les livres de règle et quelques suppléments, voir critiques). Les livres de règle minimum à avoir sont : le livre des sorts, le livre du personnage et le livre des combats. En anglais : Character Law, Spell Law, Arms Law. Viennent ensuite des livres de règles aditionnelles et optionnelles compilées dans des suppléments appelés Compagnon ou Companion en anglais. A vous de voir lequels peuvent être intéressants, ils ne sont pas obligatoires. Pour voir la liste complète des suppléments Anglais et Français, rendez vous en section Critiques.
Si vous optez
pour la nouvelle édition vous pouvez vous la procurer neuve (chez ICE ou chez un magasin spécialisé) ou d'occasion. A savoir que tous les titres qui sortent aujourd'hui ne sont plus traduits. La version minimaliste de cette édition ne vous fera acheter que le Rolemaster FRP, si vous voulez cependant le minimum vital à tout MJ qui se respecte, il vous faudra : RMFRP, Arms Law, Character Law, Spell Law of Channeling, Spell Law of Essence, Spell Law of Mentalism. ICE propose à ce titre des packages trés intéressants au niveau prix (même avec le transport).
Spacemaster :
Quels livres pour démarrer ?
Spacemaster existe en deux versions, aucune n'a été traduite. L'ancienne édition (qui correspond en fait à deux éditions quasi similaires) est aujourd'hui disponible uniquement en occasion via les magasins spécialisés ou les sites de vente aux enchères. La nouvelle édition est disponible chez ICE directement ou dans les magasins spécialisés. Pour l'ancienne édition, les deux livres à possèder pour commencer sont Future Law et Tech Law. Pour la nouvelle édition il vous faudra au minimum Spacemaster : Privateers. Nombre de suppléments existent pour les deux versions. Rendez vous en section Critique pour avoir la liste complète.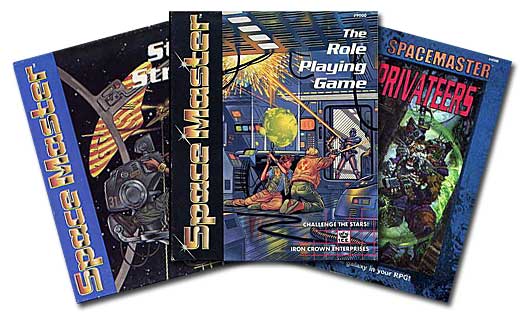 Spacemaster Seconde Edition, Star Strike et Spacemaster : Privateers.
HARP :
Quels livres pour démarrer ?
C'est certainement la voie la plus simple puisque HARP est le dernier jeu d'ICE. C'est le plus facile à trouver et celui sur lequel ICE dispense le plus d'efforts. Le livre de base : HARP est assez facile à trouver, même en
France. Attention tout de même : il existe deux versions de ce livre, une vieille version qui est en fait un premier jet et une version revisitée qui est l'actuel. Certains magasins peuvent vous revendre leur vieux livres sans scrupules, soyez certains de vous procurer la version revisitée ! Les autres livres sortis à ce jour sont Martial Law et College of Magics. Ils ne sont pas indispensables mais ajoutent pas mal d'options aux règles de base…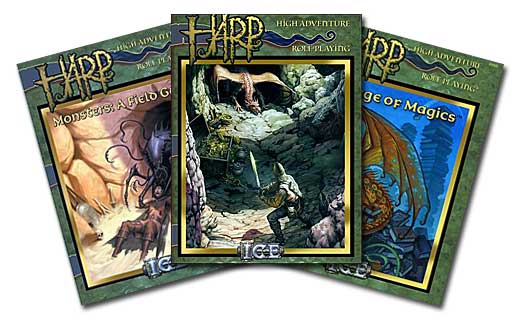 HARP Livre de Base, Monsters, a Field Guide & College of Magics.
Shadow World :
Quels livres pour démarrer ?
Shadow World continue d'être suivit par ICE et si les anciens suppléments ne sont plus disponibles, d'autres devraient voir le jour. Pour ce qui est du choix des livres, notre préférence va à Jaiman et Emer. Si vous aimez faire jouer en ville le module Eidolon, City in the Sky
est indispensable ! Pour ce qui est de
l'indispensable si vous démarrez c'est l'Atlas 4ème édition qu'il vous faut. Rendez vous en section critique pour avoir la liste complète des suppléments disponible ou non à la vente.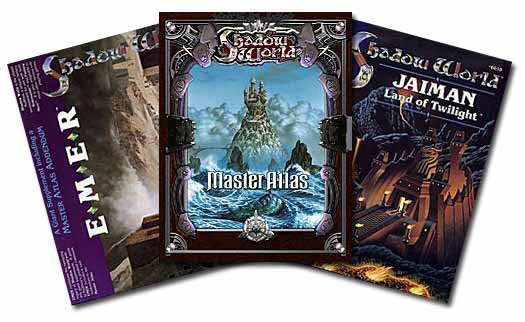 La boîte Emer, Master Atlas 4ème Edition 4 et
Jaiman, Land of Twilight.